发表于 2022/5/4 12:12:42
阅读(125)
光PM-IQ调制器受温度影响,其偏置点将随时间慢变从而严重影响通信系统性能,我司研制的PM-IQ调制器自动偏置点控制模块采用Cyclone IV作为主控芯片,能够满足6自由度控制需求,可提供Verilog代码、CAD原理图、PCB设计图等,详细参数见下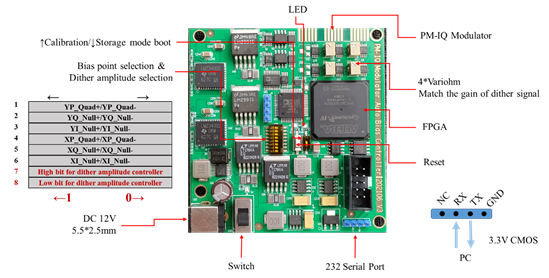 Fig. 1 PM-IQ调制器自动偏置点控制模块简介及各部分说明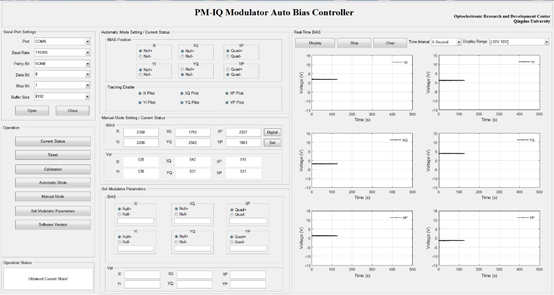 Fig. 2 基于MATLAB的GUI实现的上位机控制软件(非必须)
该GUI能够自动完成PM-IQ调制器各臂半波电压的自动测量,NULL+/NULL-软件可设置。该模块使用情况见下面视频所示:
| | | |
| --- | --- | --- |
| 序号 | 标题 | 网址 |
| 第1期 | 实时相干光通信收发机简介 | https://www.bilibili.com/video/BV1HL4y1Y7xM?spm_id_from=333.999.0.0 |
| 第2期 | 基于UDP的高清视频流通过实时相干收发机 | https://www.bilibili.com/video/BV1hq4y1k76o?spm_id_from=333.999.0.0 |
| 第3期 | 基于PM-QPSK相干接收技术的600米自由空间视频传输 | https://www.bilibili.com/video/BV1y34y1B7C6?spm_id_from=333.999.0.0 |
青岛芯诚光电科技有限公司是一家新型通信系统算法及硬件解决方案商,从事通信物理层调制解调算法的FPGA实现,DSP算法IP核销售,硬件电路研制、生产、销售,上位机控制软件、人机交互、显示界面开发,基于计算机集群及GPU的算法设计等。公司致力于星地微波射频通信、相干/自相干光通信物理层算法研究及基于FPGA的算法研制等工作,助力高校和科院所相关科研项目的系统设计、核心算法研制及落地工作。
青岛芯诚光电科技有限公司
联系方式: +86 16678693710
邮箱:jucheng719@qdu.edu.cn
Universal DP-IQ Modulator Auto Bias Controller
(DPIQ-ABC)
Feature
◆Simultaneously provides six automatic bias voltages for dual polarization IQ modulator.
◆No external PD needed.
◆Both SP-QPSK/x-QAM and DP-QPSK/x-QAM modulation formats suitable.
◆Single 12 V power supply, 2.2 W typical power consumption.
◆Dither amplitude can be modified flexibly by slide switches for different modulation formats.
◆The slope of each bias point is selectable by slide switches or RS232.
◆Accuracy of I,Q and P arm: ±2°
◆Calibration mode needs 40s to start, 4s for storage mode.
◆Easy to use:
Manual operation with slide switches.
Flexible control instruction through RS232.
◆Two modes to provide bias voltages:
a. Automatic bias control.
b. Manual bias control.
◆Low profile: 76mm(W)*79mm(D)*10mm(H)
Introduction
The universal DPIQ-ABC model is a device specially designed to control the bias position for DP-IQ modulator. DPIQ-ABC can control two polarization channels in DP-IQ modulator to generate DP-QPSK/x-QAM signal, it also can only control one polarization in DP-IQ modulator to generate SP-QPSK/x-QAM signal. It simultaneously sets the first and second modulators of each IQ modulator at Null points and the third modulator of each IQ modulator at quad point. Bias position and Vp value for six arms will be displayed graphically through the GUI.
DPIQ-ABC is designed based on perturbation algorithm and is not sensitive to RF signal patterns and RF amplitudes. Based on our novel fully digital tracking algorithm, DPIQ-ABC can provide ultra stable performance even when the system works alternately in send and stop mode.
Due to the influence of temperature, the offset point of optical PM-IQ modulator will change slowly with time, which will seriously affect the performance of communication system. The automatic offset point control module of PM-IQ modulator developed by our company adopts cyclone IV as the main control chip, which can meet the control requirements of 6 degrees of freedom. See the following for detailed parameters
Fig. 1 Introduction and description of automatic bias point control module of PM-IQ modulator
Fig. 2 Computer control software based on Matlab GUI (not required)
The GUI can automatically complete the automatic measurement of half wave voltage of each arm of PM-IQ modulator, which can be set by null + / null software. The usage of this module is shown in the following video:
| | | |
| --- | --- | --- |
| Index | Title | website |
| 1 | Brief introduction of real-time coherent optical communication transceiver | https://www.bilibili.com/video/BV1HL4y1Y7xM?spm_id_from=333.999.0.0 |
| 2 | Introduction of real-time coherent optical communication transceiver high definition video stream based on UDP passes through real-time coherent transceiver | https://www.bilibili.com/video/BV1hq4y1k76o?spm_id_from=333.999.0.0 |
| 3 | 600m free space video transmission based on PM-QPSK coherent reception technology | https://www.bilibili.com/video/BV1y34y1B7C6?spm_id_from=333.999.0.0 |
Tel: +86 16678693710
Email:jucheng719@qdu.edu.cn